Parent-Child ( Oyako ) Program - Ages 5 to 18
All images © 2006 - 2023 Sierra Aikido. All rights reserved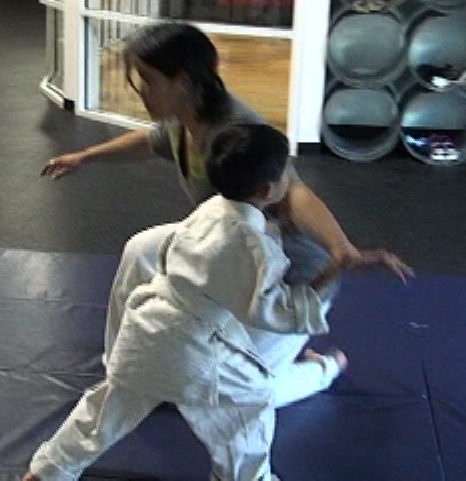 Parents with children from 2nd to 12th grade spend quality time together in a friendly, supportive and enjoyable training environment. Sierra Aikido's Parent-Child training promotes wellness and life balance for all ages. Fitness is a family affair! Children and teens are more likely to remain physically active if their parents join them on the mat for parent-child classes. We have current members, parents, children and siblings who have enjoyed training together for years.
What if a child or teen might not willingly train with a parent?
This is not at all unusual. Children and teens are developing their independence and sense of self. We work out, case by case, how to structure the training for parents and children. Some train comfortably together from the first day. However, many find it's better to train separately for a few weeks, or as long as needed, to allow the children to get comfortable in a new situation, bond with peers, volunteers and instructors, and understand what Aikido training is all about.
Gradually parents join in, watching, helping the group with a game, and training with other children and parents. In most cases, the children slide naturally into training with everyone on the mat, including their own parents. Kids typically prefer instruction from older kids and peers, rather than from their parents. This is also normal. With experienced kids on the mat making the corrections as needed, parents can just relax and enjoy the training with their kids!
Our Teaching Approach
The bell curve does not apply at Sierra Aikido. Every student, age 5 to 70+, can do Aikido well with our consistent support and inclusive atmosphere. We are committed to working one-on-one with all our adults and kids, and track their progress against clear group and personal objectives.
To engage kids fully and help them internalize their Aikido skills, we incorporate guided Aikido-related play alongside the traditional structured training. Our indoor environment, with a soft mat and learning aids, stimulates a fun physical workout. Also, kids of all ages gradually learn to manage a significant part of their own training. The combination of structured training, self-directed study and play makes the training stress-free and productive. Frequent opportunities for self-discovery motivate the children and lay the foundation for lifelong, self-directed learning.
In addition to bringing parents onto the mat, we harness the magnetic attraction drawing younger children to older ones to copy and learn from them. Older child and teen volunteers join instructors and parents, creating Aikido games, exercises and a variety of training formats for the younger children. With mixed skill levels on the mat together, everyone gets one-on-one training with experienced partners, as well as with peers. Cross-generation training creates a warm family feeling and a secure learning environment for all ages.
Getting Started
Visitors and newcomers always welcome!
Newcomers may join at any time because training for students of all ages is self-paced, with mixed skill levels training together. Visitors are always welcome to come observe or try out a class without obligation. Some like to try a class right away, while others prefer to observe one or two classes first. To participate wear loose, comfortable clothing. If you want an Aikido uniform, we have them available at cost.
Who Can Participate
Kids and adults of all physical abilities are welcome! No previous experience is needed, and there's no need to "get in shape" first. Anyone ready to begin light to moderate aerobic, weight-bearing exercise can start training. We especially encourage children and teens who have had less physical training than others to join us. Sierra training is always self-paced, so everyone fits in.
Aikido has broad appeal. Athletic children and teens enjoy Aikido training, but we've found that kids who are not motivated by sports are especially drawn to the art. Aikido is also well-suited to girls because it relies on leverage through agility and positioning, rather than on upper-body strength.
How We Support and Integrate Beginners
Instructors and experienced students teach beginners one-on-one and in small groups in a sheltered area of the mat, within the regular class. Experienced partners enable new students to make tangible progress on their first day. We always pair new children and teens with peers so that they have friends from the start. After learning some basics, parents soon pair up with their children and teens with the support of an instructor.
Beginners learn the Aikido falls gradually and safely, starting in a low position on a very soft surface. No one ever has to do any part of the training that he or she is not comfortable attempting. Because we adapt the training to each student's needs, we can always find alternative ways for our members to learn and train. All our members, ages 5 to 70+ learn Aikido at their own pace, gradually developing skills and stamina. We help our newcomers make a smooth, comfortable transition to training with the rest of the class.
Training for Parents
Orientation for Parent-Child Practice
We provide all parents with some initial orientation and ongoing training in parallel with the Parent-Child classes. Parents spend a few minutes each week with an instructor learning:
The class objectives, the training routine and our teaching approach
Basic Aikido moves and concepts ahead of their children
The connection between the games/exercises and the Aikido training
The ways that beginners, especially children, absorb Aikido technique and concepts
Effective teaching using touch, positioning and movement, and very few words
Parents arrange a time with the instructor to complete the initial orientation. The ongoing training for parent-child practice can usually be done during or immediately after the parent-child class.
We recommend that parents do additional training in the adult classes because we've found that it greatly benefits both parents and their children. The process of training ahead of the children enables more effective paired practice in the parent-child classes as children reach different stages in their development. Both parents and children will progress more rapidly and enjoy the parent-child training more. Parents can complete our orientation for the parent-child training during their first month in an adult class.
Convenient Scheduling: Back-to-Back Adult and Parent-Child Classes
For busy parents there are adult classes scheduled back to back with parent-child classes so that both parents and their children can train with only one trip to our dojo per week if they wish. Parents can also train in any other adult class scheduled throughout the week.
Learning Goals for Children and Teens
We take a holistic approach, that integrates physical, social and cognitive learning experiences for each student. Our holistic approach integrates physical, social, emotional and cognitive learning experiences for each student.
Schedules & Classes